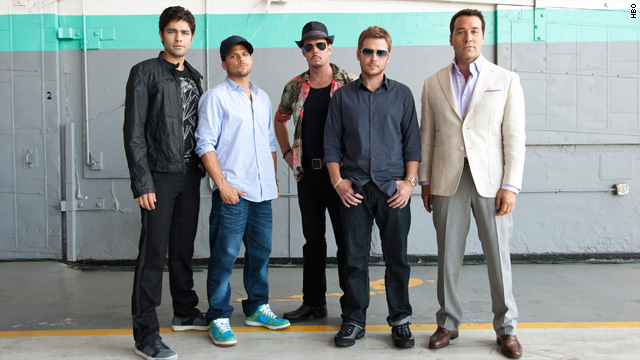 Wow, I still can't believe that Entourage is over. I wish the show was still going on, but like the old saying "All good things, must come to an end". Jerry. While the jury seems split – on Twitter at least – on how the "The End" did or did not bring the series to a proper close, let's break it down for ourselves.  **Spoilers after the cut**
We kick things off with some big news. Twenty-four hours after his date with Sophia, Vince decides that he and the newfound love of his life are getting married. Vince wants the boys and Ari to head to Paris for the ceremony. It took him eight years, Mandy Moore and a porn star to find "the one," but eh, he seems to have found her in only the way Vince can. Add to that, E and Sloan are having a baby. Looks like we're all growing up fast!
Over at Ari's office, our boy is unshaven, disheveled and seemingly at his lowest point as an agent. After admitting he's actually "devastated" by his divorce, Melissa Gold walks in. (Although I'm skeptical about these two getting back together at the expense of the more awesome Dana Gordon, I will continue to refer to her as Melissa Gold until it actually happens. ) At any rate, Melissa wants to tell the kids about the divorce together, but not before one last trip to Dr. Marcus.
And that is the heart of "Entourage." When life is good, when life is bad, none of it matters when you've got a friend or two to drop everything for you. Friendship and growing up have always been at the core of this series, and leave it to Billy to sum that up for us.
The gang's all here and surprise, surprise, Vince got E and Sloan their own separate plane. Am I the only one a little upset that E and Ari didn't actually hug it out?
What really struck me in this final scene weren't the happy endings of our characters, but the hurt in Jerry Ferrara's eyes didn't seem forced. It seems Ferrara wasn't just acting as Turtle sensed the beginning, middle and end concluding before his eyes. "I'm a little emotional." We are too, Turtle. Cue Led Zepplin's "Going to California," and the end credits.
That was that, but wait, there's more!
Somewhere in Italy, Ari and Mrs. Ari are living the high life when the phone rings. And when the phone rings near Ari Gold, you can bet business is on the other line. John Ellis (Alan Dale) wants Ari to be the Chairman and CEO of his studio.
"You want to know what heaven really is, Ari, try being God," John tells him.
Fin….Or is it? This conclusion begs the question of whether Ari will head back to L.A. for another shot at building the empire he dreams of. Perhaps it's a query – along with a few others – to be answered in the potential movie.
Whether or not the show ended the way you wanted, it's sure not going to please everyone. That said, do you think the "Lost" diehards or "Soprano" lovers are still happy with their endings? Regardless, you can't deny they'll always have a place in their hearts for the series that made them care enough to question the very notion of what a series finale should be.